---
It is always hard to preplan your workouts while travelling due to uncertainty about facilities. I like to ensure I always go prepared with a couple great workout routines that are easy to do on the beach or even in your room!
I look after a couple of properties in Cabo San Lucas, Mexico, so this comes in very hand whenver I am staying at one of my vacation rentals, PlayaCabo.
This is your opportunity to step away from your typical Suit & Tie routine, and try some fun new workouts while on holiday. My favorite routine I do in Cabo is beach plyometrics, and I have included it in a helpful guide I have included below.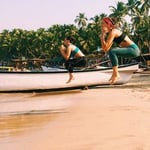 Top 5 Work Out Tips While Travling:
Remember to pack a couple pairs of workout clothes
Double check you have packed your workout shoes
Check ahead to see if your hotel has a gym
Prepare a few workout routines that can be performed anywhere
Enjoy yourself on vacation, but remember there are always healthy options (my go to healthy dinner option is girlled fish or chicken)
If you need help with on the go work out routines, download my helpful guide!